Chicago's Bit Riot Records has hooked up with the creators of indie Horror film, Afterparty Massacre and added 5 Electro/Coldwave/Noise/Metal artists from their roster to the film's already intense soundtrack.
Giving a new twist to horror, the Afterparty Massacre, brings metal, blood and gore back to the screen with Cyanotic, Defcon, Everything Goes Cold, Left Spine Down and Torrent Vaccine helping to complete the soundscape for scenes throughout this blood soaked motion picture.
Written by Kristoff Bates (Horrormerch.com/Spookygirls.com) and Kyle Severn (Incantation/Acheron), Afterparty Massacre is one killer party with mind-blowing amounts of music, blood and flesh!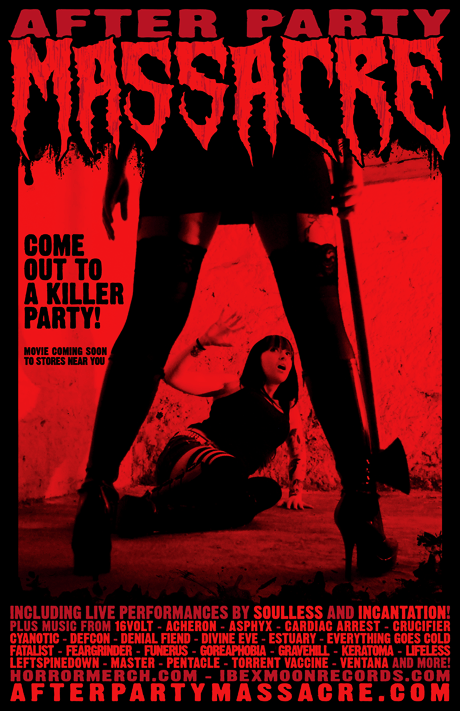 If you haven't heard of Afterparty Massacre, here is a quick note to sum up some of the chaos that has taken place while filming from co-director Kristoff Bates.
"We had a party – cut off arms with a power saw, slit some throats, bashed a girls head in with a double ended dildo, cut off a leg, sledge hammered a vibrator through a girls head as her head then vibrated on the floor. Then we had another party – killed a stripper, cut off a leg, bashed someones head in with a hammer and drove around a bunch trying to get all of this together… it's definitely been a long 4 months, even for independent movie shooting… and we still have more to go!"
Kristoff continues with details about the actual release date, "Summer 2010 was a bit too close for us to film, edit and press this movie. But we are currently working on a full spring 2011 tour with Incantation and we still have our distribution into Best Buy. So we are definitely going to take our time to make a movie and packaging that you will be able to pick up come spring! So keep on the look out for tour and release date info!"
Look for the Afterparty Massacre movie in Spring 2011!
Visit the following links for more information on the film and the Bit Riot Records artists involved:

Afterparty Massacre:
http://www.afterpartymassacre.com
Bit Riot Records:
http://www.bitriotrecords.com
Cyanotic:
http://www.myspace.com/cyanoticonline
Defcon:
http://www.myspace.com/defconband
Everything Goes Cold:
http://www.myspace.com/everythinggoescold
Left Spine Down:
http://www.myspace.com/leftspinedown
Torrent Vaccine:
http://www.myspace.com/torrentvaccine