Join brokEn36, and guest dj E.M. August, aka Eric Dusik- Bit Riot Records co-founder for two hours of Chicago Industrial Radio on HIDDEN FORMS, Saturday January 16th from 7 until 9pm.
featuring the latest from…
DESTROID
XP8
IAMX
X MARKS THE PEDWALK
KMFDM
IAMX
BACKLASH
DE/VISION
… along with a tribute to the ever influential, Wax Trax! Records, in memory of the recent passing of co-founder, Dannie Flesher.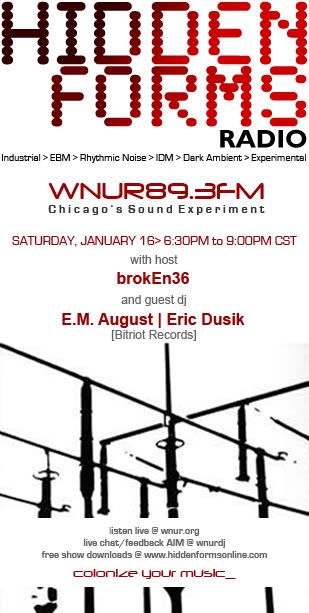 tune in Chicago at WNUR89.3FM
chat us up on AOL Instant Messenger @ WNURdj
or call in at (847)866-WNUR
if you miss a show, download or stream our FREE archives at
PromoHo- expose yourself.
HIDDEN FORMS- colonize your music.