Join, brokEn36, SATURDAY, June 14, for two-and-a-half hours of Chicago's Industrial Radio Show, HIDDEN FORMS.
New music this week from… ANGELSPIT, SHNARPH!, STRAY, STRAFTANZ, NEBULA-H, C/A/T, NACHTMAHR
… and more giveaways, courtesy of PromoHo! we've got another limited edition genCAB t-shirt promoting the forthcoming debut release on Hive Records, Gemini Transmuter! along with the latest Bit Riot Records compilation from special guest DJ, Sean Payne and his Cyanotic Presents: Gears Gone Wild! contains 20 fierce new, rare and unreleased tracks from Cyanotic, 16volt, Acumen Nation, DJ? Acucrack, Rabbit Junk, Prude, Left Spine Down and more. and all you have to do is dial a phone!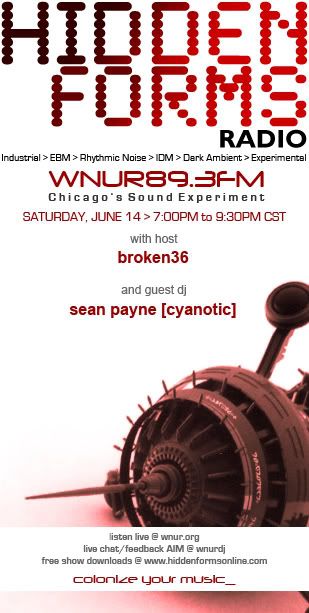 tune in Chicago WNUR89point3FM
stream the show live
chat us up on AOL Instant Messenger @ wnurdj
call in (847)866-9687
if you miss a show, download or stream our FREE archives at
HIDDEN FORMS Online
*(new shows available the Monday following)